Subscribe:
>> See All Podcast Episodes Here
In this episode, I talk to Colt Straub, worship leader at Ovation Worship which recently released a new album
Find Colt Straub and Ovation Worship:
Be Invisible, And You Might Become Visible
Being a worship leader should start with a genuine desire to seek God in private. Colt started worshiping God on his own to Hillsong DVDs. God eventually opened opportunities to lead others in worship, record a worship album, and much more.
How Do You Use Aspects Of Music Entertainment To Make You A Better Worship Leader?
You should have good stage presence to engage the audience to worship God. You are either creating energy or taking it away.
Good worship involves creating an atmosphere where people can meet God. Use elements of entertainment to facilitate that — good song flow, eye contact, and confidence.
How should Someone stop being nervous when leading worship?
There's no way to not be nervous without repetition. It takes 10,000 hours of practice to reach "expert level" at any task. Worship leading is no different. Start with small stages like kids church and youth group to build your confidence, then move to bigger services and more people.
How do you develop excellent worship in your team?
You have to focus on the people first. When you invest in the people, it's amazing what those people end up doing.
Second, you have to delegate and empower people. Give away your weekly tasks so you can focus on the bigger vision. As you invest in people, they become experts in the things that you handed off, and you can move on to the next level.
During the album recording, Colt handed off many items that needed to get done for the weekly services. That freed up Colt to work on songwriting, recording in the studio, and more.
Learn To Lead Worship Better
Are you looking for a resource that will help you get started leading worship or improving your skills?
Check out the book "Learn To Lead Worship In 14 Days." It's a step-by-step, day-by-day handbook that can launch your worship leading journey in as little as two weeks.
>> Get this valuable resource by clicking here.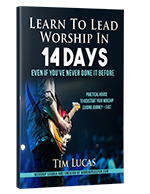 *There are affiliate links, meaning Worship Deeper is compensated when you purchase using these links. Thank you for supporting this ministry!