When I was 15 years old, a leader in my youth group passed around a clipboard asking if we were interested in becoming a worship leader.
It was my understanding that the cool kids in youth group were on the worship team, so why not join the club?
I look at my misguided motives after more than two decades of leading worship and realize that God can pull you into his calling in a variety of creative ways.
Fortunately, this is not the only way to start if you're wondering how to become a worship leader. That's why I'm going to give you some practical steps you can take if you feel God has called you to the exciting, life-changing ministry of worship leading.
1. Find Out If You are Called to be a Worship Leader
This is a simple first question to ask yourself. But I don't think you need to answer it right away. The fact that you are reading this article is a good indication God is calling you.
Still, be aware that it may not be your purpose. Worship leading is not for everyone.
The best way forward is to knock on the door. God (and perhaps those around you) will make it clear if this is not your calling. If it's not, no worries — God has something better for you.
Want to know if you're called to be a worship leader? Listen to this podcast episode.
>> Learn To Lead Worship In 14 Days: a book. Invest in your gifting. Click Here
2. Build Your Skills
So let's assume you are called to lead worship. Where do you start? It may seem obvious, but you need to become proficient in your instrument and/or vocal ability.
Nothing tests your skills like leading a group of people in worship. There are no do-overs, or at least there shouldn't be.
I touched a musical instrument for the first time just two years before I started leading worship. And I'm pretty sure I had never sung in front of anyone.
I wasn't ready.
I remembered the first song I led from piano. I struggled to get my fingers to the right keys on the keyboard while singing some version of the tune. I'm sure it was dreadful.
Luckily, God doesn't require musical mastery before we start leading worship. But he does want us to take our craft seriously. Psalm 33:3 says "Sing to him a new song; play skillfully with a shout of joy." (NASB)
Here are some of the most effective ways to get ready to start leading worship at your church:
Get some instruction. If you can afford it, get lessons. Learn the basics of your instrument and learn music theory. Knowing the building blocks of music will help you tremendously down the road. I also recommend getting vocal exercise materials such as those found at Vocal Artistry. Your voice needs to be worked out just like any other muscle.
Hang out with worship leaders. One of the best ways to pick up worship leading skills is to build relationships with people already doing it. Take advantage of every opportunity to be around them, jam with them, and be on their worship teams.
Study the masters. Find a song you love by a big artist like Hillsong or Chris Tomlin. Dedicate yourself to learning the song. Look up the instrumental parts on Youtube, then try playing along and keeping up with the recording.
Practice. The more comfortable you are with your voice, instrument, and the songs, the more freedom you're going to encourage when you lead worship.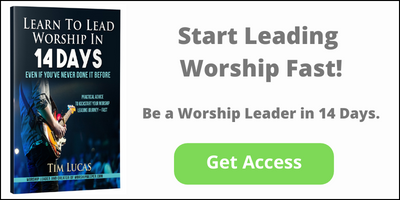 3. PUT YOURSELF UNDER AUTHORITY
As a worship leader, you are under the authority of the senior pastor, youth pastor, and other worship leaders in your church. Accept their leadership.
With this attitude in your heart, approach the people in charge and say you are willing to help with worship in any capacity. Keep in mind that they might say you're not ready, or ask you to do something else entirely.
Sometimes God puts us in lowly positions to see how we handle it. Only then does he release bigger things.
4. Speaking of Lowly Positions, be Faithful in the Small Things
As someone who has trained up many young people into worship leaders, I can say I spent most of my time with people who proved their commitment. They showed up on time, practiced outside of group rehearsal, and demonstrated eagerness to learn.
I've also flat ignored a few "aspiring" leaders who wanted to be on stage but didn't want to put in the time. Luckily they are the exception.
Great worship leaders often start as instrumentalists or vocalists on teams that others lead. I can't think of a better way to become a worship leader than to serve under someone who is doing the thing you want to do.
As the leaders see your dedication, they will promote you.
5. Seek Opportunities to Lead Worship
You may come from a church with an established worship team for your adult, high school, and junior high programs. Perhaps there's no room for you.
That's OK. What about the children's ministry? How about the senior citizens in your church or a neighborhood mid-week small group? Chances are they don't have a worship leader. What a great place to gain some experience while serving a potentially neglected segment of your church.
6. Be Reliable and Available
Ninety-five percent of becoming a worship leading is just showing up. Be consistent, week after week, year after year. You'll see doors fly open everywhere you go.
Conversely, if the pastor and leadership can't rely on you to show up prepared to lead, doors will shut.
But when they open, a worship leader's favorite word should be "yes". If someone asks you to do something, just do it.
There were countless times I led worship for a seemingly small event and someone there asked me to do something bigger. That's just how it works. No shortcuts.
So if you really want to know how to become a worship leader, it's pretty simple.  Keep at it. Be persistent. It will pay off.
Now You Can Start Your Worship Leading Journey
I hope I've given you some really practical and helpful tips on how to begin worship leading at your church, small group, or another ministry.
Yet, maybe I've been a little too practical so let me end with one thought.
None of this will help you if you are not living a life of worship. It's really hard or impossible to lead worship if your life is not consistent with what you're singing.
So with that I bless you in your worship leading endeavors. I'd love to hear about your journey. Leave a message in the comments below.
Learn To Lead Worship in 14 Days
Wanting to lead worship, but don't know where to start? I just wrote an all-inclusive book on how to kickstart your worship leading journey — Fast.
>  Click here to get a copy of "Learn To Lead Worship In 14 Days."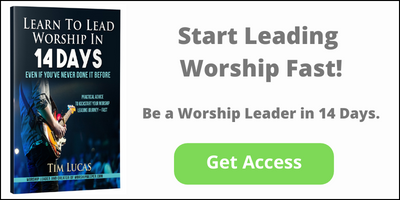 Featured Image: Greg on the Run