If you've never led worship before, you might think that worship leaders just choose a few songs to sing on a given Sunday then they're done.
But if you've ever led worship, you probably realize that a lot more goes into it.
As a worship leader it helps to know the important elements that you should consider — besides the songs themselves — when putting together a set list.
And before we get started, I'll preface that you should pray as you select your songs.
This is really important. You have no idea what's going on in peoples' lives as you lead worship. There could be a death or illness in a family and they need to hear a certain song. There may be a financial problem or a job needed.
So praying opens up your spiritual ears. God probably won't tell you a song audibly, but he might give you a strong impression that you should do a certain song as you look through the possibilities. Pray before choosing your set so your spiritual ears will be opened to hear
I can't count how many times I had an impression that I was to do a certain song, then found out later that it was the exact song the church needed. Many times I've created my song set on Monday, then on Wednesday, something would happen where people needed encouragement.
It turned out that the songs I had selected addressed and encouraged those situations. This is stuff that you just can't coordinate.
That being said, it's still our responsibility to control the things we can control. So here are four things to think about when putting together your worship song list.
Listen to the Podcast
Subscribe:
1. What's the sermon topic?
Our church plans sermon topics out at least a few weeks. This helps worship leaders because we can log into a service planner such as Planning Center and peek at what the sermon is going to be about this coming Sunday.
Sure, you could call the pastor, but a lot of volunteer worship leaders like you and me do our sets at 10pm! So that doesn't always work.
At any rate, get access to your pastor's sermon plans for the coming weeks and months. It's a big help.
For instance, if you know your pastor will speak on faith, you might plan on doing Hillsong United's "Oceans". If on Christ's forgiveness, perhaps you would play "At the Cross (Love Ran Red)" by Chris Tomlin.
And now, there's a worship set list generator that helps you find songs within a certain theme.
Your pastor will love that you are ready with songs that back up his or her message.
Just a note here, however. Don't feel that every song has to be in lock-step with the theme of the sermon. You have to deal with so many other factors when creating a worship set list — from keys to familiarity to song difficulty — that one or two strong songs around the theme is usually sufficient.
Sample worship set list based on the Theme "Surrendering to God"
Lay Me Down – Chris Tomlin
Forevermore – Jesus Culture
Come As You Are – David Crowder
I Surrender All (hymn)
Glory to God – Steve Fee
2. Build the Worship Set around a Theme
So let's say your pastor writes his sermons on Saturday night, so you don't know what it's about.
In that case, you can still select songs by theme.
I think what you don't want is 4-5 songs randomly strung together. That's really easy to do, and it's not the end of the world.
But it's better to select songs that go together thematically.
For instance, maybe your first 1-2 songs are about who God is and your last few songs are praising him for who he is.
Maybe you select a theme like faith, love, the fatherhood of God, or the Holy Spirit.
There are a lot of great themes you can select with many worship set list ideas for that theme.
---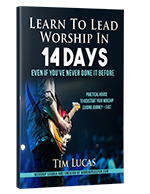 If you want to learn everything you need to know about starting to lead worship, check out my book, "Learn to Lead Worship in 14 Days." It will guide you through the process of working up to your first worship session even if you've never led worship before. And the best part is that it's going to take you 14 days to do it.
Or, if you lead a worship ministry and you're looking for a how-to guide to hand every new worship leader, this book is for you.
>> Click here for this valuable resource.
---
3. Consider the song keys
You'll want to figure out in which key you will play each song as you put your list together.
There are a few rules I like to stick to when it comes to key:
Don't play more than two songs in a row in the same key. You lose people after about 5-6 minutes in the same key. The songs start to drone together. Change that third song or change its key to revitalize people's attention spans.
Try not to go down in key from one song to the next. For instance, if you have a song in A, don't go to a song in G for your next song. If possible, change the next song to A, or better yet, to B.
Use the circle of fifths. Certain keys go better together than others. A surefire way to transition is to pick songs in keys that are next to each other on the circle of fifths. It works both ways. Going to the right, you're going up to the fifth note in the scale. Going left takes you to the fourth note in the scale. Either way works well. So a good key change series would be C, G, D, A, E, then B. Transitioning up one key — from C to D for instance — also works well. However, don't be chained to this method. With a little creativity you can transition
Sample worship set list with smooth key changes
I Am – David Crowder. Key of G
This is Amazing Grace – Phil Wickham. Key of D
Cornerstone – Hillsong United. Key of D
Forever – Kari Jobe. Key of A
God is Able – E
4. Consider Tempo
You want dynamics in your worship set.
Part of dynamics means finding songs in different tempos. For instance, many worship sets start with a fast song and end up with a slow song.
Whatever order you want, just be sure to think of your worship set as a line. It should start high, go lower, then back up, for instance. Or you might start the line low and rise throughout the set. In any case, the line should never start somewhere and never change.
If you're familiar with BPM, you know that stands for beats per minute, and it's an important song element to pay attention to.
Typically I start a song set above 100, go down to 70-80 then rise back up to 80+ to 90 to end the set.
To shake things up even more, throw a song in 6/8 time or other time signatures into your set. There are lots of good Elevation Worship songs in 6/8 and these tend to be really powerful anthems that are great for the middle of your set
Sample worship set list with smooth tempo changes
Go – Hillsong United (Fast)
Hosanna (Praise is Rising) – Paul Baloche (Medium-fast)
Waiting Here for You – Martin Smith (Slow)
How Great is Our God – Chris Tomlin (Medium-slow)
Glory to God – Steve Fee (Medium-fast)
Additional Set List Tips
Start with One Song
Often there will be one song that I really feel is right for the upcoming Sunday. Maybe it matches the sermon theme. Maybe God gave you an impression during a prayer or personal worship time.
When this happens, it's a nice headstart on your list. You can build the rest of the set around this song.
For instance, you feel that Hillsong United's "The Stand" is THE song for this Sunday. You could put it in the middle to end of the slower part of the set. You come off some fast songs into maybe one slower one, do The Stand, then end on a mid tempo song.
Sample worship set list based on a song
Running – Hillsong United
This Is Amazing Grace – Phil Wickham
Word of God Speak – Mercy Me
Featured song –>The Stand – Hillsong United
Like a Lion – David Crowder
Consider your Highest and Lowest Notes
Make sure you are not singing too high or too low for the congregation. Ninety-nine times out of a hundred, I will play the song in a different key than the song is recorded in. Most people just can't sing as high and low as some of the amazing worship artists these days. Make it easy on your crowd.
According to Worship Together, you should keep the lowest note of any song above a Bb and the highest note below an Eb. I personally stay even lower than this when a song hangs at the higher range for a long time. I can hit a D in passing, but my voice starts to go if I'm hitting a D for half the song! And I'm sure my non-singing friends in the audience don't fair much better.
Consider the Holy Spirit
Let's face it. As worship leaders, we sometimes like to get up there, do our worship set and be done. But remember — that's only half your job!
Leave room for the Holy Spirit in your worship sets. Don't be so married to your worship set list that God can't get you to add a spontaneous song or even repeat a chorus!
Don't be afraid to go off script and let God take over. That's what worship leading is all about. A great set list is just a starting point. Let God work through it.
Featured image by William Iven