Podcast: Listen Here
Subscribe:
>> See All Podcast Episodes Here
In this episode, I talk a little about my story as a volunteer worship leader, and what that life has looked like. This is part 1 of a 2-part episode. In part 2, I cover strategies to help you be successful at your paid and unpaid careers simultaneously.
Notes:
If you plan to listen to this episode, you're probably a volunteer/unpaid worship leader
I don't know the stats, but I would guess that most worship leaders are in non-paid volunteer positions at their churches
Most churches are small and can't afford a full or even part-time worship director, so they rely on volunteers to lead the ministry
The good news is that it doesn't mean the quality has to be worse than if they hire a full- or part-time worship leader
My church is living proof
We have no paid staff
We have 3 volunteer worship leaders who lead part of the ministry and rotate Sundays.
And I can say that our professionalism rivals churches with paid staff and with bigger worship teams
That's because, even though this isn't our full-time job or even part-time paid position, we are serious about providing great worship experiences
So today I'm going to, first of all, let you know that it's perfectly ok to be a volunteer worship leader forever. You don't need to seek to be in a paid position or make this your career to be effective.
Second, I'm going to provide strategies on how to manage this position as a volunteer
About me
First of all, a little about my background
In over 2 decades of leading worship, I've never had a paid position
I've been leading worship in some capacity for over 15 years at my current church, but never in an official paid role
There's certainly nothing wrong with getting paid as a worship leader, but God has never steered me in that direction
Instead, he's always given me jobs where I'm free at night and on weekends for worship rehearsals and Sundays
And there's a biblical precedent for this. Remember that Paul had a tentmaking business while he was preaching at local churches

So evidently he would run this business during some part of the day then minister to the church and community the other portion of his time.

In 1st Thessalonians 2 he said he did this as to not be a burden to the local church
He also said that even though he deserved to be paid, he chose not to, to further spread the gospel.
So here we have this biblical example of the most powerful preacher and advocate of the gospel to ever walk the earth, and he wasn't in a full-time paid position
Guys, that should be an encouragement if you feel like a "lesser" worship leader because it's not a paid or official position within your church
I would argue that you have even greater impact on your community by being in the workplace and serving in the church.
Plus, you can identify with your worship team better, because they are all probably volunteering to play or sing in addition to their full time job.
But I will tell you that this road is hard.
You're constantly juggling your paid job and your non-paid job. So how do you do this?
---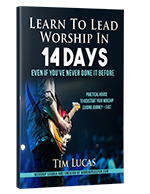 If you want to learn everything you need to know about starting to lead worship, check out my book, "How to Lead Worship in 14 Days." It will guide you through the process of working up to your first worship session even if you've never led worship before. And the best part is that it's going to take you 14 days to do it.
Or, if you lead a worship ministry and you're looking for a how-to guide to hand every new worship leader, this book is for you.
>> Click here for this valuable resource.
---
So how do you effectively do 2 jobs at the same time and do them well?

You don't want to let one or the other suffer
You don't want your paid job to become unimportant. God has called us to our "secular" job to make money, provide for our family, and be a witness. Part of being a witness is being a great employee if you work for a company, or a great provider of service if you have your own business

So I'll paint a picture of how I do things since I've had 2 different careers simultaneously for more than 20 years
So first of all, you have to accept that this life is a sacrifice.

You have to give up a lot of free time.

So at night after you've worked all day, spent time with the kids, put them to bed, then you start putting together your worship list
There have been times where I start on my worship job at 9pm and finish after 11.
Then you're learning new songs, organizing rehearsal, and rehearsing at night, in the morning before work, on your lunch breaks, and whenever you have a chance

But I think this kind of work ethic is biblical
God's getting the most out of your talents and abilities. By learning and growing in your paid and volunteer careers, you're building skills simultaneously that you wouldn't be if you were a worship leader only
And the skills you build in your paid career help you in worship leading, and vice versa
So getting back to the idea that you have to accept the sacrifice

You won't watch TV very much, you won't know any movies that are out, and you will miss camping trips because you're working all week and leading worship on Sundays
You probably won't have time for hobbies because leading worship will essentially be your hobby too.

So all that being said, the sacrifice is worth it

Eventually, you won't miss things that don't matter like popular TV shows
You'll see a huge value in what you're doing and this extreme work ethic will seem normal to you

So once you've accepted that this life will be tough, here are some strategies to make this work in part 2
Learn To Lead Worship Better
Are you looking for a resource that will help you get started leading worship or improving your skills?
Check out the book "Learn To Lead Worship In 14 Days." It's a step-by-step, day-by-day handbook that can launch your worship leading journey in as little as two weeks.
>>  Get this valuable resource by clicking here.