If you make a purchase using links in this post, I may earn a small commission at no additional cost to you. Support this ministry by purchasing from our sponsors!
Here's a quick page that tells you the gear I use, and why I use it.
If you purchase your gear using the links, a small portion of your purchase goes to this site. You can support this ministry!
Related Podcast Episode: 5 Best Pieces Of Gear For Worship Leaders. Shownotes can be found here.
To skip to a section, click the below links.
Acoustic And Electric Guitar Pedals
Guitar Accessories
Guitars
Amplification

1. Acoustic And Electric Guitar Pedals
If you're an acoustic guitar playing worship leader, you may think that you don't need any guitar pedals. Quite the contrary. Even if you don't play lead guitar, pedals will increase your effectiveness as a worship leader, from staying in tune to getting good signal to the sound board. Here are the pedals I use when leading worship from acoustic guitar as well as gear I use when playing lead guitar.
Boss TU3 Chromatic Tuner Pedal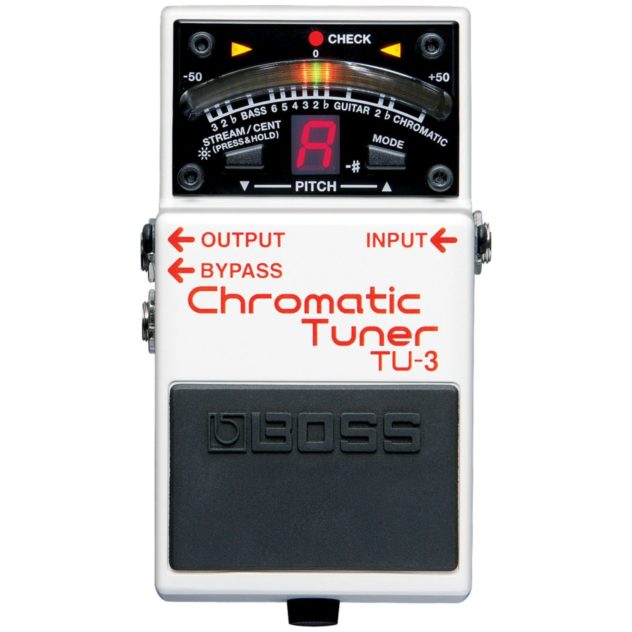 This is the #1 piece of equipment guitar players should purchase, right after your guitar of course. It's a must-have for any worship leader. Guitars go out of tune and you need to be able to tune up at a moment's notice. The pedal cuts signal to the soundboard when the tuner is activated, so you can tune your guitar without the congregation hearing you plunk each string. And, you can trust the accuracy of this unit more than those cheap plastic $10 tuners or a free app on your phone. Those are fine for home use, but get a professional-grade piece of equipment if you are actually playing in front of people.
>>Buy the Boss TU3 Chromatic Tuner Pedal here>>
Fishman TonedEQ Acoustic Preamp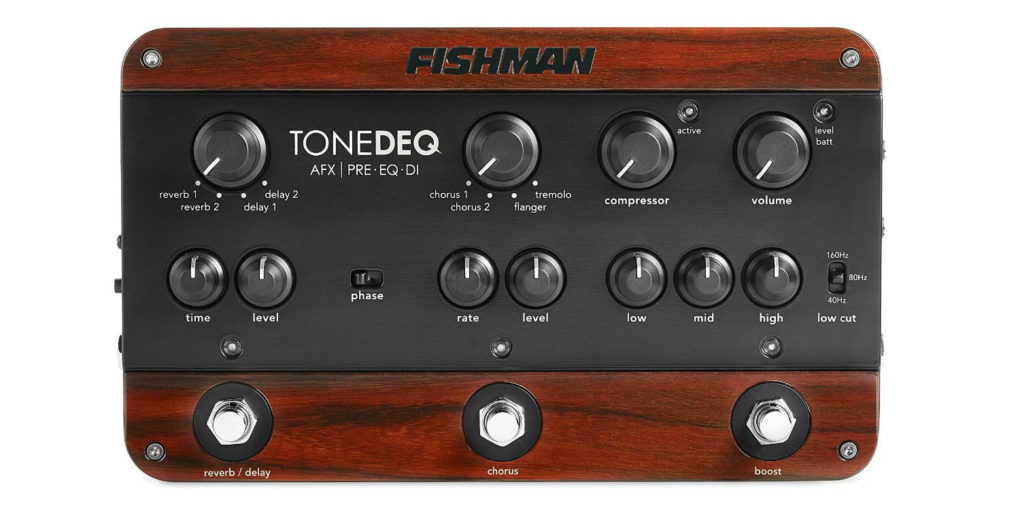 This piece of equipment is a must-have for any worship leader with an acoustic guitar. Most onboard guitar pickups don't have much power. Send pure, powerful, and rich signal to your soundboard for a guitar tone that will shock you. Buy the Fishman TonedEQ preamp here.
The Fishman ToneDEQ is a must-have piece of equipment for any worship musician. >>See my full Fishman ToneDEQ review here.>>
Boss DD-5 Digital Delay Pedal
This is a great, basic delay pedal that's easy to use and versatile. I recommend also getting the Boss FS-5U so you can tap in rhythms.
My only beef with this pedal is that you can't dial in a tempo. For instance, if a song is at 90 bpm, you have to do your best to tap it in. You can't dial it in to a specific bpm like you could with the Boss DD-20 Giga Delay. But I'm primarily a worship leader/singer/acoustic player so the DD-5 has been fine whenever I play lead guitar.
But that's not the only time I use it. It's SO much fun to plug it in to my acoustic!
Note the below link is for the DD-7, because Boss doesn't make the DD-5 any more. The units are fairly similar. If you don't mind buying used, the DD-5 can be found on various used gear sites.
>>Buy the Boss DD-7 Digital Delay Pedal here>>
Boss FS-5U
This is a tap-tempo unit that plugs into the "tempo" jack of a Boss DD-5 or DD-7 via a standard instrument (quarter-inch) cable.
What I like about this tap tempo pedal is that it is quiet. You can tap in a song during a quiet moment between songs or in the middle of a song.
Some tap tempos I've seen make a loud "CLICK" when tapping in. This is distracting and very audible to the congregation/audience when you are in a quiet worship setting, or any quiet setting. But the FS-5U doesn't make a sound.
>>Buy the Boss FS-5U Tap Tempo Pedal here>>
Fulltone PlimSoul Distortion / Overdrive Pedal
This is an insanely versatile pedal. It can handle everything from light drive to over-the-top distortion. It can work in any church setting (or any other venue).
The secret is the "Stage" setting. In Stage 1 ("Stage 2" knob all the way to the left) you get a bluesy soft-clipped distortion. But for very modern rock-driven worship styles, crank the knob to the right to blend go all out on Stage 2 distortion — a hard-clipped distortion that is right at home with even the most edgy worship music. The pedal really pays off if you play for a variety of styles in and out of the church.
The price is reasonable for a unit that matches the quality of more expensive boutique pedals. I get comments all the time on how great my guitar sounds through this
>>Buy the Fulltone PlimSoul Distortion Pedal here>>

2. Guitar Accessories
Almost as important as the guitar itself is the equipment you use to make sure it stays safe and sound great.
Ultimate GS100 Support Genesis Guitar Stand
This is the a great guitar stand because it's sturdy and folds up to about 18 inches in length. I fold it, put it in my gear bag, and I'm good to go.
The other benefit to this stand is that it holds the guitar by the head. Most guitar stands require the back of the neck to rest against the holder. This is bad. It puts forward pressure on the neck.
This guitar stand, though, hangs the guitar by the head stock. Note that guitar shops hang their guitars this way too! There's a reason. It puts pressure on the guitar straight up and down. There's nothing worse than a bent guitar neck!
>>Buy the Ultimate GS100 Support Genesis Guitar Stand here>>
Dean Markley Blue Steel Acoustic Guitar Strings
I've played a lot of kinds of acoustic guitar strings like Martin, D'Addario, and even "top of the line" Elixir, but nothing has matched the sound and playability of Dean Markley Blue Steel. The sounds is warm, but they still, somehow, cut through and allow the acoustic guitar to be heard through everything else.
Most guitar strings are too warm or too shrill. Either the guitar gets lost or sounds like a tin can. These strings are a nice balance, and bring out the best tones in the guitar. The end result is a guitar that sounds like it was supposed to when the luthier put it together!
More good news: these are some of the more affordable strings out there. I buy them off Amazon, because most major chains have stopped carrying these strings (no idea why!) and Amazon's price beats those in music stores.
>>Buy Dean Markely Blue Steel Guitar Strings>>
Dunlop Straplok® Strap Retainer System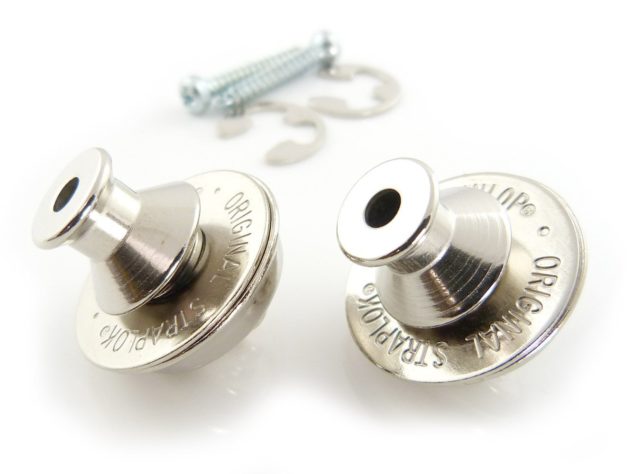 This is the best $10-$15 you will ever spend.
Imagine saving your $1,000 guitar with a few dollars. That's what the Dunlop Straplok® system does.
This system protects your electric guitar strap from slipping off the strap "buttons," the metal parts that the holes in your strap slip onto. Standard strap buttons are surprisingly bad at actually keeping the strap on your guitar.
That's where the Straplok® system comes in. As the name suggests, they lock your strap onto the strap button. The strap can only come off if you manually push a button to release it.
I've installed the Straplok® system on three guitars now, and I was able to do it myself. You need a drill, a 7/64 inch drill bit, a bar of soap (to lubricate the new screw), and a Phillips screwdriver. Installing is not hard, even for someone without a lot of construction or guitar experience.
However, I installed the system on guitars that had standard buttons already. That made it easy to remove the existing buttons, drill a slightly larger hole, and install the new Straplok® screw and button. If the guitar has no existing buttons, or if you don't feel comfortable with the procedure, take the guitar to a guitar repair shop to have it done. It will be well worth it!
>>Buy the Dunlop Straplok® Strap Retainer System here>>
Monster Cable
I don't know about you, but I can never have enough instrument cables. Monster cables are the best that I've found.
Most cables stop working after a few years. A connection inside somewhere dies or gets stepped on one too many times. But you can feel the durability of a Monster Cable as soon as you take it out of the package. They are backed by warranty in case you do ever break it — perhaps by running it over with a bus or something.
3. Guitars
Now for the good stuff. What actual instruments do I play?
Taylor 810ce Dreadnought Acoustic Electric Guitar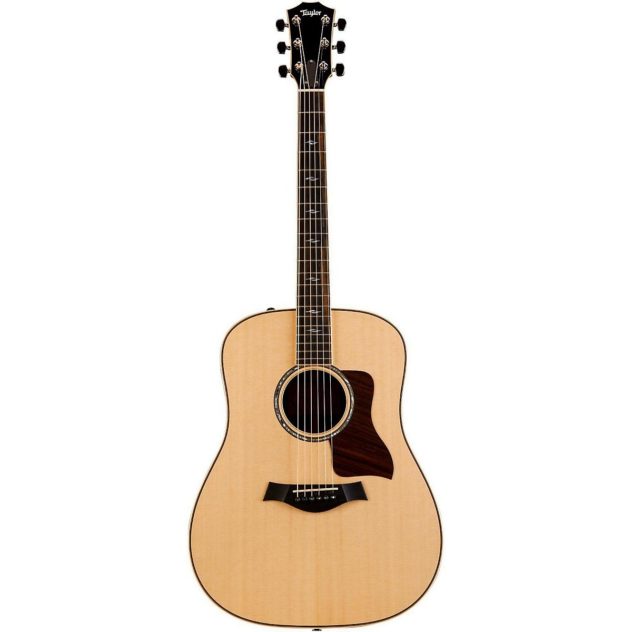 My 1999 Taylor is still kicking!
People might balk when you tell them you spent $3,000 on a guitar (these guitars are much more now than when I got mine) but you can tell them that, since you'll have it the rest of your life, it's a great value.
This is simply the best guitar I own, or will ever own. The sound quality is amazing, and only gets better with time.
The lower-end Taylors are good too, although I would stick to a 300 series and up if you want to keep it forever.
Here's how Taylor's model numbers work: the higher you go, the higher the quality. The 100-200 series are relatively new to Taylor, and are an effort to offer a more affordable option to Taylor fans. They still sound good, but they are not the same as a 300 and above. The 800 series is as high as you go in quality before you get all the fancy inlays and ornamentation of the 900 series. Personally, I would rather have all the intrinsic quality and forego the price tag of a fancy "show" guitar.
Pictured here is the Taylor 810e. Mine is the 810ce, meaning it's a cutaway acoustic-electric. The cutaway is not a necessity on a dreadnought since you typically don't use them to do solos way up the neck. But I Iiked that option in case I ever need to play very high notes, which happens occasionally.
Each player will gravitate toward a certain style, so check out all the Taylor options on their website. Whatever you go with, you won't be disappointed!
If you want a guitar you can pass along to your grand kids, get a Taylor 800 series, or really any Taylor in the 300 series and above!
>>Buy the Taylor 810ce Cutaway Dreadnought Acoustic Electric Guitar here>>
Larrivée D-03R Acoustic Guitar
I had a hard time finding a backup guitar/second guitar after being spoiled with my Taylor 810ce. I played Martins plus a number of other well-known acoustic guitars but nothing really compared.
Yet, I wanted a backup guitar on stage with me in case I broke a string or had other technical difficulties (which I must say is rare with my Taylor).
Plus I wanted a guitar with a different feel, maybe a slightly lighter touch than my Taylor.
Then I took a trip to Vancouver, BC and found the acoustic guitar that actually came close to the sound quality and playability of Taylor: Larrivée acoustic guitars. (They happen to be maid in Vancouver, Canada which made it all the cooler that I found it there.)
The D-03R in particular was the perfect combination of big sound plus very light, airy, playable action. After about 5 minutes with it, I picked it up without a second thought.
After owning it for about 10 years now, I'm glad I did!
Don't let the fact that the Larrivée is my backup guitar deter you from buying it as your primary. This guitar is made to ultra-high quality standards and, if not for my Taylor-leaning preferences, I could make this my primary and only acoustic guitar. This guitar will bring out the best player in you.
>>Check Out Larrivée Guitars Here>>
Fender American Stratocaster Electric Guitar
This is a classic instrument and you can't go wrong with an American Strat. It works well for worship because it's designed for blues/clean than for harsh, gritty distortion. It's a nice solution when you want to introduce lead guitar and electric guitar in general to a church that perhaps has never had it before.
You can get such quality sounds that are super-tasteful for all types of audiences. Plus, you can add drive for edgier worship settings.
Let's not forget that the king of the worship guitar, sir Lincoln Brewster himself, plays a Strat. So we know it's a fantastic instrument for worship!
If you want a version that's easier on the wallet, try the made-in-Mexico version of the Stratocaster otherwise known as the MM Stratocaster or Standard Stratocaster. You'll save 50% or more. Visually it's nearly identical the the USA version. The difference between this and the American-made version, among others is:
It's made in Mexico
The American version has better tone, feel, and playability
The American version is build to higher standards and with better materials
Still, the Mexi-Strat is not an instrument to be ashamed of. 95% of people won't be able to tell the difference. If you are a beginning player, by all means get the Mexican version until you know you are serious about committing to playing guitar for the long haul.
>>Buy an American Fender Stratocaster Here>>
>>Buy A Made-In-Mexico Stratocaster Here>>
Bunker AT-200 "Nova"™ Hollow Body Electric Guitar
There's a crazy story that goes along with this guitar.
My brother-in-law recently moved to Nashville and we went out to the legendary guitar shops like Gruhn Guitars (where I purchased this guitar), Corner Music, and Carter Vintage Guitars.
It's a different experience to see guitars with $30,000 price tags casually hanging on the wall.
When I saw this guitar at Gruhn's (at a bargain price of only $1,500), I had to play it. I had no idea what it was, I just felt a strange connection to it. Turns out it was a Bunker Nova™ AT-200.
I had never heard of the brand, let alone the model. When I played it, I found out that these guitars were unique for a few reasons.
Bunker guitars use the Sustainium™ Tension Free Neck system, which employs a 3/8″ steel bar down the neck to support the strings at the headstock. String compression dampens the natural sound of the wood, as well as increases risk of neck warping. If you think about it, this makes sense. A long strip of wood such as a guitar neck is no match for six metal wires (the strings) that are wound so tightly as to make sound. A regular guitar uses a truss rod to counteract this string pressure, but Bunker Guitars go one step further and take tension completely off the neck.
The pressure-free neck means notes sustain longer, there are no dead spots on the neck, and a more durable guitar that is less susceptible to weather changes.
And playability is unmatched. This particular model comes with a hollow body, and, matched with the Sustainium™ technology, the creates tones that are hard to reproduce with any other instrument.
So I purchased the guitar in Nashville, and Gruhn's shipped it home to me.
After perusing the Bunker website later, I found these guitars were made close to my home town!
Bunker Guitars is headquartered less than an hour from my house near Seattle. As it turns out, founder Dave Bunker is a Pacific Northwest native, and a legend in the guitar-making world. He invented the Touch Guitar™ which needs no picking or strumming! He's been making guitars for more than 60 years, and he's a player too, with bragging rights such as playing alongside legends like Elvis, the Everly Brothers, and Merle Haggard.
I was able to speak to Dave when I returned home from Nashville. I contacted him on Facebook, and he was gracious enough to have a 10 minute conversation with me. He's a very personable guy, and was genuinely interested in the fact that I really enjoyed playing his guitar.
Anyway, besides all the backstory, these guitars are worth looking into for the serious guitarist. And you'll have a truly rare instrument that will set you apart from players who play the well-known brands.
>>Check out Bunker Guitars Here>>

4. Amplification
Looking for good guitar amps for worship? You'll want something that's not too powerful. Typically you bury the amp in an isolation booth which is basically an enclosed box of any kind with foam padding or other sound insulation.
Most sanctuaries can't handle an open amp on the stage. They generate too much stage sound, and it makes it tough to balance everything else. That's why most churches will isolate the electric guitar amp and mic it. That way you get your true tone without blasting the part of the congregation that happens to be standing in front of the amp.
So I recommend smaller amps with not too much wattage. In fact, a lead guitarist at my church plays with a 3-watt tube amp. And it's plenty powerful! Another guitarist has a 30-watt amp, and that's fine too. Whatever amp you play, make sure it works for your church setup. I personally like combo amp rather than the separate head and cabinet, but that's just me not wanting to haul around two things.
I'll review a couple options that have worked in my church. There are plenty of options out there, but these are the ones I know the most about.
Egnater TWEAKER 112 Guitar Combo Amplifier
After looking at dozens of guitar amps, I finally went with the Egnater TWEAKER 15-watt guitar amp.
I wanted a tube amp, after using my Fender Stage 112 solid state for years.
This amp fits the bill. I like it because you can truly "tweak" the sound to model a lot of different popular options. You can go anywhere from modern USA blues/rock to classic Brit to the signature Vox AC sound. Or, make a blend that's all your own.
I didn't want to be tied down to one sound, so if you want to maintain versatility with an all-tube guitar amplifier that sounds great. choose the Egnater Tweaker.
I have the combo amp, but you can also buy the Egnater head and cab separately if you prefer. Either way, this is a great, affordable, portable, and versatile amp!
>>Buy the Egnater TWEAKER 112 15-Watt Guitar Amplifier Here>>
More Guitar Amp Reviews Coming Soon!